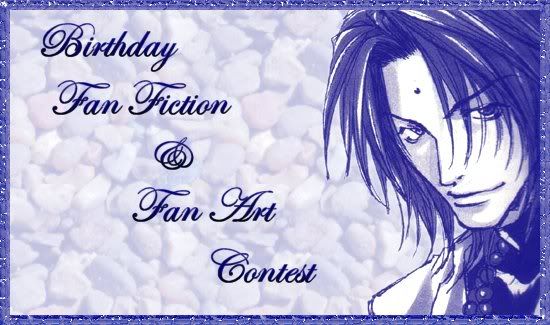 Yes, you read that right. I know I haven't been that stellar of a mod recently, but I want to see if we can't liven this community up a bit.

For a long time now I've wondered when Homura's birthday was. Obviously Heaven wanted to keep it under wraps because it was such a scandal, but he had to be born sometime. And while many of the other characters' of Saiyuki have been given actual birthdays, Homura's has never been known (at least not to me, and I've searched pretty extensively).

So,
illianaka proposed we should make his informal birthday January 26th - the same day as his seiyuu, Toshiyuki Morikawa. I wholeheartilly agree with her, and it gave me an idea for this challenge.




CONTEST RULES:



1. All stories and art must contain elements of the birthday theme (obviously). It can be anything from something small to a big party - whatever idea catches your fancy. Genfic, het, yaoi, anything goes as long as it involves the birthday theme in some way.
2. All stories/art must be the original works of the author/artist.
3. There is no limit to the number of entries that can be submitted.
4. Stories/art cannot be older pieces unless they are nominated by another individual. You cannot nominate your own work, but you CAN submit new work to the contest.
5. All submissions must follow the already existing rules for posting material for the community. In short, put everything behind a cut or give us a link and make sure you give us any warnings if needed. Post submissions in NEW LJ posts in this community and include "Birthday Contest" somehow in the Subject.
6. Submissions can be made from now up until the 22nd of January. Then there will be voting for three days following and the winners of each catagory will be announced on the 26th. Anyone who submits a story after the 22nd will have their story listed in the "exibition" catagory and will not be up for voting.
7. Those who submit entries may vote, but they are required to abstain from voting on their own entries. Voting on one's own entry will knock you out of voting and into "exibition" only.
8. Those who don't wish to compete but still wish to submit in honor of Homura's birthday may do so by stating that their fic is part of the "exibition" section. This means that your fic will not be voted on, but still linked to for others to find.
9. Winners will receive banners that they can put up in their LJ userinfo or webpage or wherever they wish.


If you have any questions or concerns, comment here or e-mail me at iapetusneumeATlivejournalDOTcom. If you e-mail me, make sure you put "Homura contest" in the subject header.

Remember, the deadline for all stories/art is January 22nd. Good luck!